Next Cryptocurrency to Explode Saturday 30 September – yPredict, Gala, Pepe
Join Our Telegram channel to stay up to date on breaking news coverage
The global crypto market capitalization rose by 0.17% to $1.07 trillion in the last 24 hours. It shows a steady increase above our previous report after its latest recovery. The consistency of the crypto market is further revealed as the next cryptocurrency to explode emerges.
In the last 24 hours, the market's trading volume surged to $42.15 billion, with a 38.58% increase. The total volume of the decentralized finance sector reached $2.28 billion, making up 5.40% of the overall market's 24-hour trading volume. Meanwhile, stablecoins added a total volume of $40.16 billion, representing 95.28% of the market's 24-hour trading volume.
Bitcoin's market dominance is, unfortunately, down by 0.14%. It currently leads the crypto market by 48.86%.
On the stock scene, the MSCI global equities ended Friday's session negatively as investors prepared for a possible US government shutdown. They made necessary portfolio adjustments as the quarter drew close.
Hardline US Republicans in the House of Representatives rejected the House leader's proposed bill to provide temporary government funding on Friday afternoon. Since the bill was dismissed, it guarantees that government agencies will begin to shut down on Sunday.
Meanwhile, there were signs of easing inflation pressures in the US as the annual price increase, minus food and energy, fell under 4.0% for the first time in over two years. The development favors the Federal Reserve as it works over its monetary rate policy.
Next Cryptocurrency to Explode
Some data also show that European inflation was rising slower than anticipated. The inflation rate is now at its lowest level in two years.
Sadly, the stock market boost driven by these signs of reduced inflation faded as the trading session progressed.
1. Gala (GALA)
GALA's (GALA) price rose considerably today. It currently rests at $0.01434. In the last 24 hours, the asset has seen a 4.95% increase, with a 6.63% rise over the past week. GALA's market capitalization is $380.57 million, with a circulating supply of 27 billion GALA tokens. Unequivocally, GALA is the next cryptocurrency to explode.
Gala is a blockchain gaming ecosystem where gamers can delve into various games and have their experiences interact seamlessly across the Gala platform. At the core of this ecosystem lies the GALA token, serving as the primary medium of exchange. Game items are represented as NFTs on the Ethereum blockchain, allowing users to trade them on various marketplaces.
Market activity has risen, with the daily GALA (GALA) trading volume currently at $794.02 million over the last 24 hours. This figure reflects a substantial 65.60% surge compared to just one day ago, underscoring increased market engagement.
To provide a broader perspective, the highest price ever recorded for GALA was $0.824837 on November 26, 2021, nearly two years ago. In contrast, the current price marks a decline of -98.27% from that all-time high.
Taking a glimpse at the fully diluted valuation, GALA boasts an FDV of $716.83 million. This represents a theoretical maximum market cap, assuming the entire 50 billion GALA tokens are circulated. The realization of this FDV may take several years, depending on the emission schedule of GALA tokens.
Town Star AMA – September 29, 2023 https://t.co/r19LMYsRPz

— Gala Games (@GoGalaGames) September 29, 2023
Regarding performance, GALA (GALA) has outperformed the global cryptocurrency market, boasting a 6.60% price increase over the last seven days, while the global market saw a 2.10% uptick. Compared to similar cryptocurrencies within the Polygon Ecosystem, GALA again stands out, showcasing growth compared to peers that have remained relatively stable.
The current market sentiment around the GALA token is bullish, with over 83% of users expressing positive opinions towards GALA today.
2. PEPE (PEPE)
PEPE is trading at $0.000000786, displaying a bullish trend over three of the past four days. The asset's recovery from the bearish zone it sunk to after its supersonic rise is ecstatic. It has led investors to believe it is the 
PEPE reached a low point of $0.00000060 before it began this latest upward trajectory just last week. It signaled a resurgence of investor confidence in the token.
🐸 $PEPE Official Links 🐸

website: https://t.co/YOvEFOoGSB

uniswap: https://t.co/3YuD6iLmhV…

cmc: https://t.co/3Y4zKVWRWC…

contract: 0x6982508145454ce325ddbe47a25d4ec3d2311933

to buy: @binance, @kucoincom, @okx, @bybit_official, @HuobiGlobal, @coinbasewallet, @cryptocom… pic.twitter.com/a5LUVWBCbv

— Pepe (@pepecoineth) September 9, 2023
This heightened interest is notably reflected in PEPE's 24-hour trading volume. The trading volume surged to an impressive $112 million.
Furthermore, PEPE has surpassed the daily price chart's 20-day Exponential Moving Average (EMA). It is on course to challenge the 50-day EMA, potentially testing it as a formidable resistance level.
If PEPE breaks through the 50-day EMA, it could indicate the onset of a more extensive bullish phase for the coin.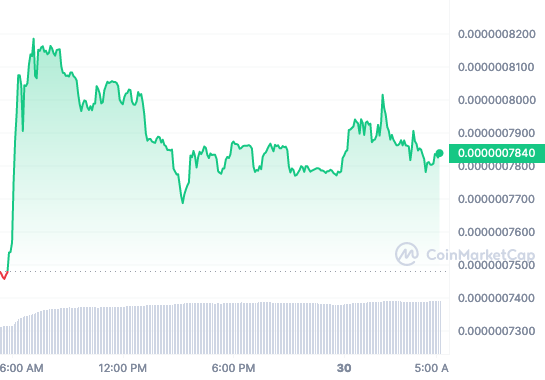 However, a rejection could steer the token back into a bearish trajectory, particularly given that this EMA has remained unbreached for nearly two months.
Regardless of the outcome, the crypto community closely monitors PEPE's performance as it approaches its second consecutive weekly gain since May, sparking curiosity about the possibility of a sustained reversal in the offing.
3. yPredict (YPRED)
yPredict is pioneering a trader-focused ecosystem where they can get everything they need. The platform unites cutting-edge features such as AI-generated trading signals, technical analysis, quantitative analysis, real-time sentiment analysis for popular cryptocurrencies, and AI-powered chart pattern recognition. The revolution yPredict brings is what guarantees that its native token, YPRED, is the next cryptocurrency to explode. The signs are already available from the presale phase.
We #yPredict are thrilled to be a first AI ecosystem using AI for crypto analytics. With our successful $3.88M presale, we're building models combining ARIMA & LSTM to make accurate Bitcoin & Ethereum price forecasts.

Our subscription marketplace will connect quant analysts &… pic.twitter.com/73zjPdrhRb

— yPredict.ai (@yPredict_ai) September 19, 2023
The company's prowess in artificial intelligence was underscored in early September when it launched the beta version of its WriteMingle AI-driven content generation and collaboration tool. This innovative tool is undergoing rigorous testing by the community's beta testers.
Aside from that, yPredict has many exciting products in the pipeline, including yPredict Predictions, yPredict Analytics, yPredict Repository, yPredict Terminal, and the yPredict Marketplace.
The presale is now in its 7th stage. It has less than $500,000 remaining to be raised before seeing an increase in the token price from $0.10 to $0.11. This terminal price marks an impressive 202% growth compared to Stage 1 of the presale.
There is a total token supply of 100 million tokens, with 80 million allocated to the presale phase. The concluding Stage 8 will make available 21.875% of the total YPRED supply, equating to 17.5 million tokens valued at $1.93 million. The ultimate target for this stage is set at $6.51 million.
Traders and investors are encouraged to act promptly after their due diligence to capitalize on the opportunity before the final price increase occurs. Given the recent influx of funds, it is advisable to act swiftly, as the 8th stage may conclude fast.
Visit yPredict.
4. Sui (SUI)
The Sui Network got a landmark 6 million users this month. Sui is an emerging presence and one of the strongest players in the blockchain space. This significant milestone firmly cements SUI crypto's position as one of the most outstanding newcomers in blockchain this year.
The Sui Network community comprises diverse groups, including 111 contributors, validators, cryptographers, Web3 experts, academics, and business leaders. They have all played essential roles in driving Sui (SUI) to unprecedented heights through innovation and widespread adoption.
In August, SUI Network underwent a transformative upgrade that introduced liquid staking. It is a feature that offers fully non-custodial solutions. This innovation empowers SUI crypto holders to receive derivative tokens based on their staked SUI tokens, significantly enhancing the network's utility and user experience.
Last week, we concluded the zkLogin setup ceremony, a critical step towards releasing zkLogin on Mainnet.

Check out a recap of the ceremony, highlighting the dedication of the Sui community that helped advance zkLogin to its next phase.🙏https://t.co/28OMVQHjt5

— Sui (@SuiNetwork) September 29, 2023
As the Sui Network continues to advance towards a more accessible and user-friendly blockchain environment, it continues to attract a burgeoning community of both users and contributors. Regarding market performance, SUI was trading at approximately $0.44 in September. However, recent developments have led market analysts to project that the value of SUI crypto could reach $0.70 by the close of 2023, further underscoring its promising trajectory.
Read More
New Crypto Mining Platform – Bitcoin Minetrix
Audited By Coinsult
Decentralized, Secure Cloud Mining
Earn Free Bitcoin Daily
Native Token On Presale Now – BTCMTX
Staking Rewards – Over 10,000% APY
Join Our Telegram channel to stay up to date on breaking news coverage